Flame Safeguard Controls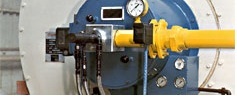 Flame safeguard controls are important for maintaining safe and reliable combustion for burners. These devices manage each step of the burner light-off and ensure flame safety throughout the combustion process. The D. B. Johnsen Company carries the following manufacturers of flame safeguard controls:
• Fireye
We also stock individual components for Fireye and Honeywell flame safeguard controls such as programmer modules, chassis, amplifiers, purge cards, scanners, iginition controls, wiring bases and keyboard display modules.
It is important to use the proper flame safeguard device with your burner. For assistance in selecting or to order the proper flame safegaurd components or controls, call the D. B. Johnsen Parts Department at 1-800-442-1242 or click here to email us.