About the D. B. Johnsen Company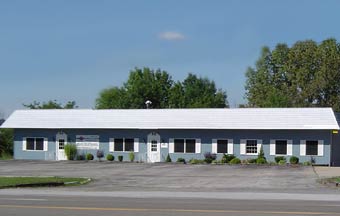 DBJ THEN
The D.B. Johnsen Company began as the Robert E. Sullivan Company. The late Robert "Bob" Sullivan founded the company in 1958 as the Northeast Ohio representative for Cleaver-Brooks Packaged Boilers.
At that time, Bob had been working for Cleaver-Brooks in Milwaukee, WI. The factory allowed him the opportunity to establish a representative organization to serve the Cleveland market and to bring new boiler technology to the growing industrial base in Northeast Ohio.
Bob began working out of his basement and, soon after, acquired supplemental boiler lines, hired additional sales personnel, and as they say, the rest is history. The Robert E. Sullivan Company became the premier supplier of boilers and boiler room equipment in Northeast Ohio.
In the early 1970's, Bob decided to pursue other avenues so he handed the reins of the company to his original hire, Don Johnsen. With that change and a new name, the D. B. Johnsen Company was incorporated.
In 1986, Don Johnsen retired and sold the company to Jim DiCaprio, another of Bob Sullivan's early hires, and to Jim Stepanek who was a long time employ with the D. B. Johnsen Company. Around that time, "Jim and Jim" hired a new service technician, Mike Kovacs, who today manages the service department and oversees the sales of new boiler parts.
In 1997, Jim Stepanek retired leaving the company to Jim DiCaprio and opening the door for Jim's son Vince, a degreed engineer, to join the company.
In 1998, with an ever increasing need to perform boiler and pressure vessel weld repairs, the company acquired a small boiler repair shop and now has a National Board R-Stamp certification. The D. B. Johnsen Company has become one of the few, full service, boiler repair companies in Northern Ohio that can perform a wide range of troubleshooting, repair, and weld services for institutional boilers, commercial boilers, and industrial boilers.
DBJ TODAY
In 2008, we parted ways with Cleaver-Brooks allowing us to expand our service area, product offerings and services, and to provide our customers with more cost efficient boiler parts. Although we still service and source parts for Cleaver-Brooks boilers, we have aligned ourselves with other manufacturers to supply our new boiler room equipment needs such as Hurst Boiler and Welding Company, Harsco Industrial - Patterson Kelley, Precision Boilers, Miura Boiler, Victory Energy, BFS Industries, Riello Burners, Critical Fuel Systems, QuikWater, M&G Duravent, US Draft Company, JJM Boiler Works, and Century Controls.
Jim DiCaprio is now retired and Vince is continuing the legacy of the D. B. Johnsen Company. Since our humble beginnings in a basement, the company has added complementary boiler lines, an extensive parts inventory, a service department with factory trained technicians, and a welding shop capable of National Board R-Stamp certified repairs.
The D. B. Johnsen Company has developed a solid reputation with contractors, engineers, and clients, as a partner to trust for supplying quality equipment with full service field support and unsurpassed technical expertise in developing boiler room solutions.
The D.B. Johnsen Company will continue our commitment to serve all of our customers' steam and hot water heating needs.